2020 Region 6 Woman of Note Awards
---
Audra Freeman - Acapella Express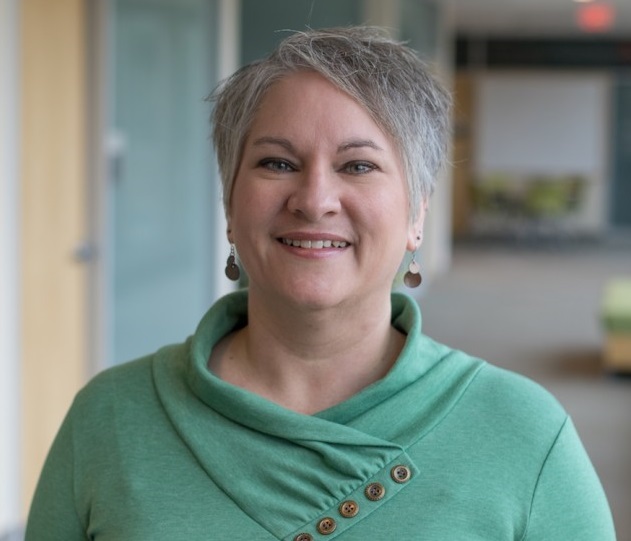 Acapella Express is proud to announce our 2020 Woman of Note award recipient. Audra 's first experience with Sweet Adeline's began 20 years ago by noticing a button on a member's jacket stating "Loves to Sing". She asked what it meant, and how to become involved, and the rest is history! She attended her first rehersal and fell in love with the barbershop style of singing and the opportunity it gives to women all over the world to come together in a sisterhood of harmony. She is also celebrating her 20 year membership this year, with an award that is well deserved!

Audra has dedicated so much time and effort in making our chorus, and the Sweet Adeline's experience, a success in our community. Her leadership has branched out in so many ways and we are thankful for her efforts. In the past Audra has served as President, Vice President, competition and events coordinator, as well as past RMT Finance Coordinator and volunteering with the Regional convention committee. She currently is our Treasurer, Music Team leader, choreographer, media specialist, organizer of performances, shows, events and competition coordinator, as well as Bass section leader. Although the list could go on, we are very thankful for the many things that we are priviledged to experience with her every week! Thank you for your dedication Audra! We are grateful for your membership and dedication!
---
Dawn Mews - Center Point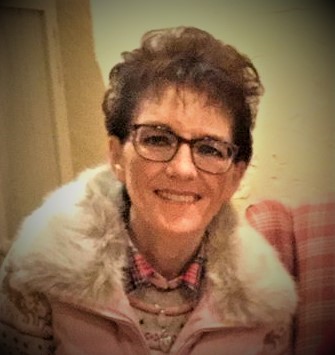 The Center Point Chorus wishes to nominate Dawn Mews as a 2020 Woman of Note in Region 6. While singing as a Lead and a member of our Silver Belles quartet, Dawn has been our chorus treasurer for ten years. She is giving of her time, always willing to help, meticulous, and competent. In her warm, unassuming way, she is such an important part of the framework of our chorus life. Like most treasurers, she handles chorus dues, deposits, bill payments, and budgets. But she is also the one in charge of financial records for all chorus shows and cash boxes for fund raising activities. As the officer responsible for chorus reporting and communication with Sweet Adelines International, she advises our Board patiently and thoughtfully on the sometimes difficult financial decisions that must be made due to our small size. Her quiet devotion to keeping Center Point Chorus afloat enables us in our mission to sing and perform four-part harmony, barbershop style. Thank you, Dawn!
---
Anne Stickler - City of Lakes


Anne interacts with all of our guests and new members, she makes them feel welcomed and guides them through voice testing and the audition process. She does it all with care, kindness and humility. She conducts well thought out vocal warm-ups for us with expertise, enthusiasm and encouragement. Anne is an example of dedication and service to COL and to Region 6 as a member of the Faculty. For all of those reasons Anne is a deserving Woman of Note Award winner.
---
Brenda Krueger - Fox Valley
Brenda Krueger started her Sweet Adeline affiliation with Cedar Harmony Chorus, region 22, in 1994, then relocated and joined the Fox Valley Chorus where she has been a vital member for the past 14 years. She serves on the music team, and has been baritone section leader for many years, mentoring not only current and new members, but guests as well. She has been our long standing events coordinator, and works tirelessly planning and implementing numerous events throughout the year.
Brenda initiated an annual pie social a few years ago, which has proved to be a very successful fundraiser for the chorus. As part of this event, one again this year, Brenda baked all the pies for the pie raffle herself! She has sung with 5 quartets over the past 26 years, and is currently the baritone in Sweet Addiction quartet. It's hard to narrow down what Brenda has given to the chorus in just this past year, because she just never stops!
---
Jeanetter Braastad - Lake Country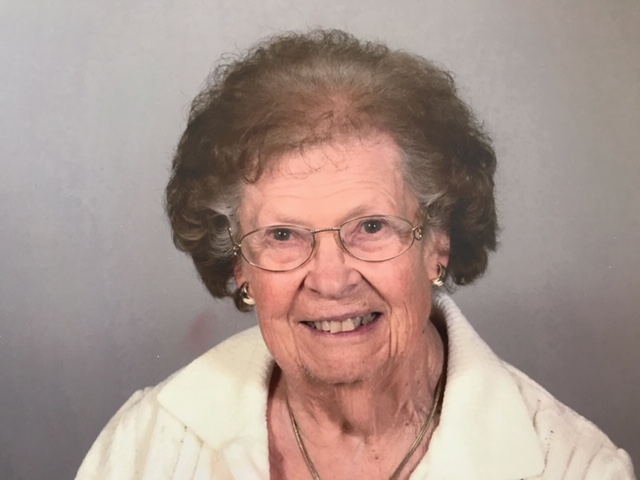 Jeanette Braastad has always been a woman of note. That is how she lives her life, a life of harmony and caring. She goes out of her way to make sure others can enjoy our music. Her generosity, her dedication to practicing her music, promoting our craft and devotion to making life-long friends everywhere she goes makes her truly the face of Sweet Adelines.
No matter how her day is going, she always presents herself ready, willing, and happy to do whatever is asked of her and that which she can physically do. She is loved and respected by all. Lake Country Chorus is proud to present her as our 2020 Woman of Note.
---
Melissa Sailor - Minnesota Valley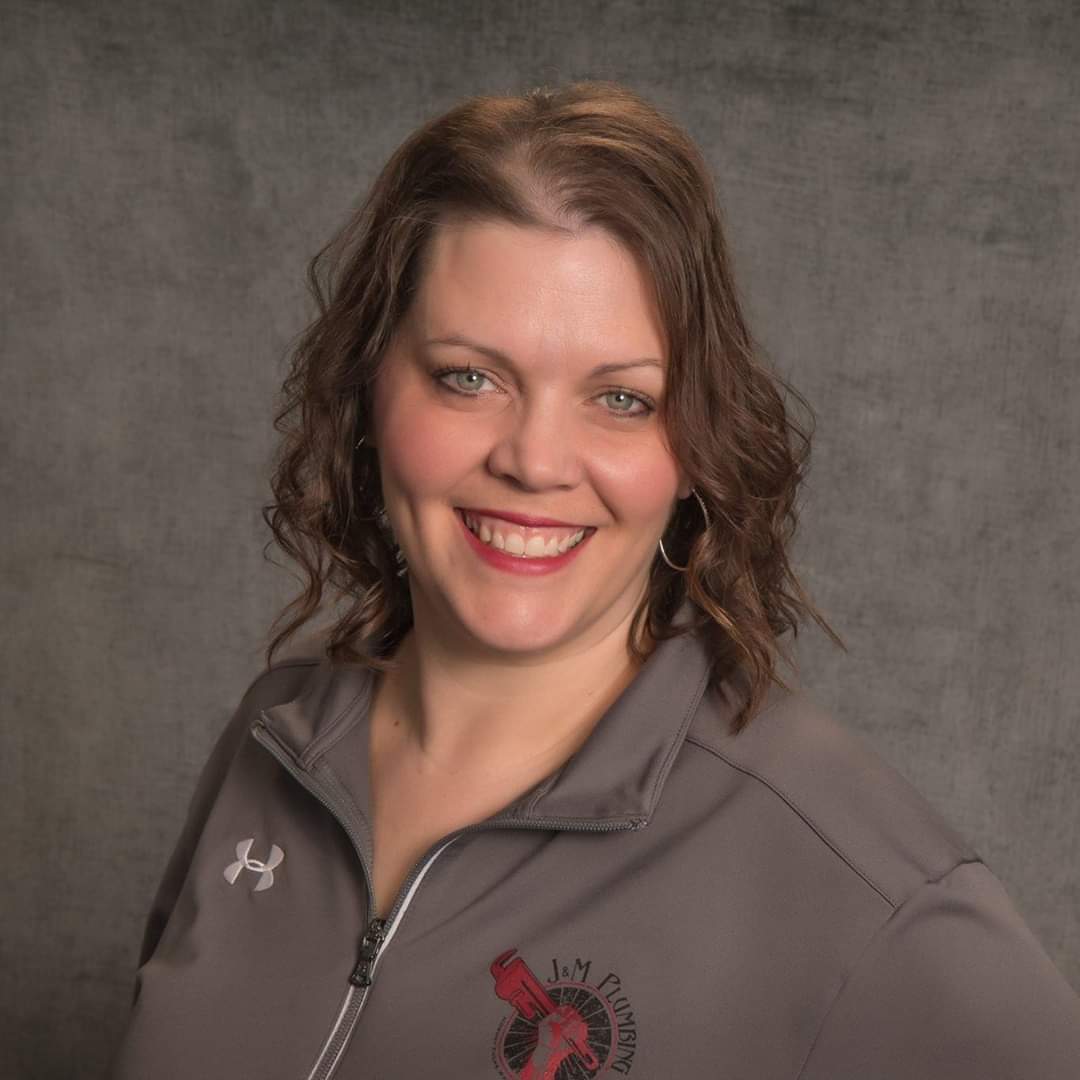 Minnesota Valley's 2020 Woman of Note is Melissa Sailor. Melissa has been a member of our chorus since 2018, and during that time she has had a positive, enthusiastic impact on our group. She brings energy and commitment to everything she does, and her positivity has an impact on everyone. She has helped our group to think of new ways to interact with our community and spread the word about our hobby.
Melissa has taken charge of our social media presence. She is consistent in posting items about our group, and also about the greater Sweet Adelines organization and singing in general, increasing our visibility in the community. Melissa is our bass section leader, a job she accepted very early in her Sweet Adelines journey. She leads her section with kindness and encouragement. She was instrumental in organizing a new fundraising opportunity for our group, which also created an opportunity for us to perform for a new audience. We appreciate Melissa's positive presence, her musicianship, and her quiet calm leadership in our group.
---
Marlene Herman - RiverCity Harmony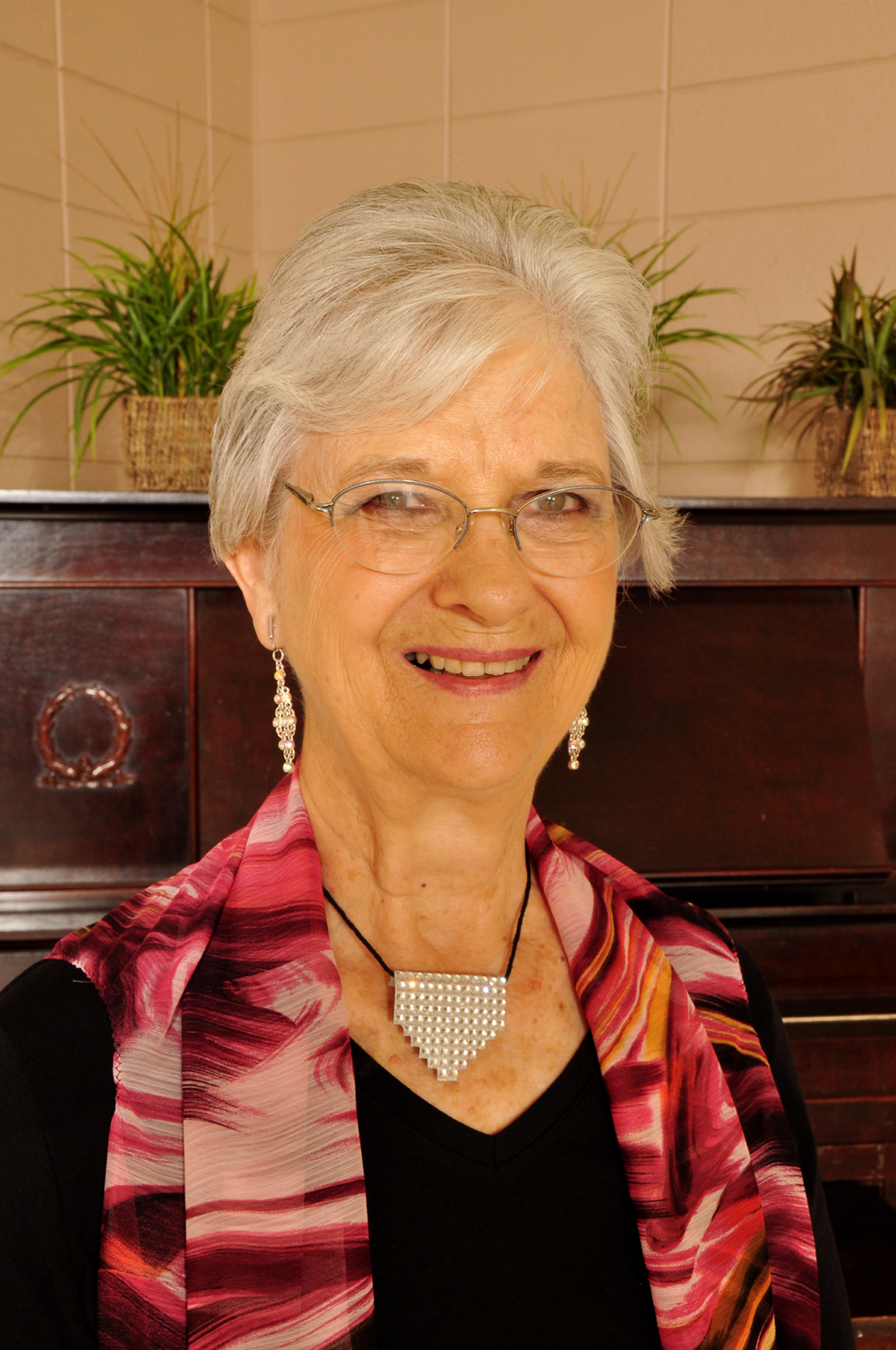 Marlene Herman was selected to be honored as a region 6 woman of note for River City Harmony chorus. she has been an active member of Sweet Adelines Incorporated since 1979.
Marlene has served as assistant director, treasurer, music librarian, costume and visual coordinator and riser mover. She also stepped up to direct the chorus many times whenever a director was needed.
Marlene encouraged members to attend regional events and sang tenor and in a quartet for over 10 years. Most notably when the chorus was struggling, she was the spark that kept us singing barbershop Harmony. Our chorus thanks Marlene for her enthusiasm and hard work.
---
Sandy Asheim - River Rhapsody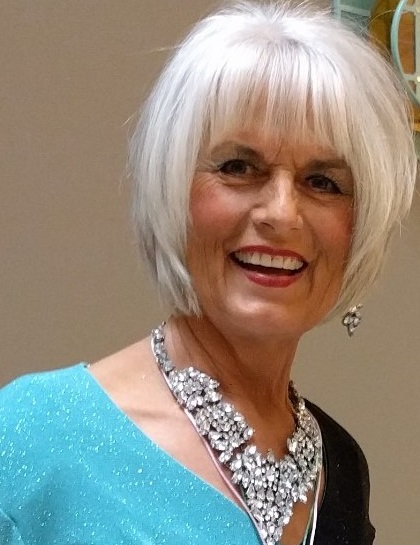 I am nominating Sandy Asheim as Woman of Note For River Rhapsody Chorus. Sandy has been an upstanding member of this chorus for many years. Besides singing baritone, she has served on the board as secretary and wrote detailed notes to keep the board informed. Most recently she is serving on the costume team and works very closely with the other members and the director. She has been serving as the MC for our performances and with a few team members, works to write the scripts. Sandy has donated time and money to printing calling cards for our chorus, and posters for some of our shows. Sandy's husband has been a great support in all that she does for and with the chorus, which has included moving the risers. I feel Sandy fits the description for this award and would like to see her receive it so the region can see we are very proud of her contributions.
---
Dawn Webb - Sound Cascade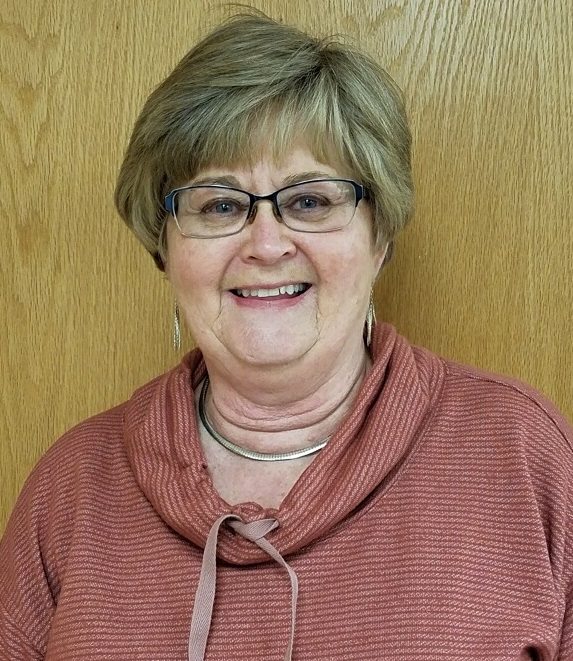 Sound Cascade's Woman of Note for 2010 is Dawn Webb. Dawn is a long time member of Sound Cascade, and she currently sings tenor. She is always working to improve our chorus musically and encouraging other chorus members. Dawn's introduction to Sweet Adelines came in 1970 when a friend invited her to Sister City Chorus in Montevideo, MN. She immediately knew that this style of music was for her and she joined that group singing as a baritone. Her director there was Bob Reed (his daughter Marcia Starnes was also a member.) Dawn eventually transferred to the Sioux Falls Chorus (which had chartered three months earlier) and continued singing baritone. Dawn's first experience in a quartet was singing tenor with Karen Christian, Suzi Dickey, and Doreen Rollag as the Sioux Edition quartet. This quartet sang together for 25 years with a 5th place showing at one competition. Dawn took a few years away from Sweet Adelines. When she returned to the chorus (now Sound Cascade,) she joined another quartet called One More Time. This quartet included Martha Donaldson (later Karen Christian joined as the bass,) Lori Sternborg, and Doreen Rollag.
Dawn has served as secretary and president of our board, section leader, and served on the costume and choreography committees. Dawn sees singing barbershop as a lifestyle, not just a hobby. She has great memories of competitions, music schools, coaching, weekly rehearsals, and the many good friends that she has made over 50 years of singing with Sweet Adelines. When Dawn is not singing, she likes to spend time with her husband Walt, her two daughters and her grandchildren. She also enjoys water exercise classes and spending time at the lake. We are proud and happy to have her as our 2020 Woman of Note.
---
Linda Bruneau - Sounds of Superior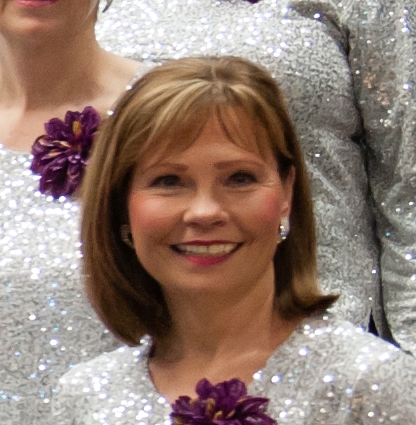 Linda serves as our Music Librarian, is on the Music Team and Visual Team. She does a wonderful job developing and leading our physical warm ups at rehearsal. She spends hours working out our choreography, watches other chorus videos, learns from our coaches, and makes videos for chorus members so they can learn the choreography. She spends extra time at home and elsewhere with those that need extra help. She has the moves and shares her expertise with grace and understanding.
Linda is a very hardworking member of our chorus and quietly goes about her work. She is a competent Music Librarian, ensuring that members and guests have the proper music, and also is responsible for downloading music onto the chorus website. Her quiet, professional and capable manner is a real asset to us in many ways. She is conscientious in all that she does from her baritone singing, to her choreography, to her presence on the Music Team and her positive attitude to everything. Music is her specialty and she does all things well.
She also volunteers her husband and herself to take on extra things for our events including moving our risers when needed. She is always willing to help!
A very talented and valuable member of the Sounds of Superior Chorus - worth to be called "Woman of Note".
---
Pat Young - Spirit of Harmony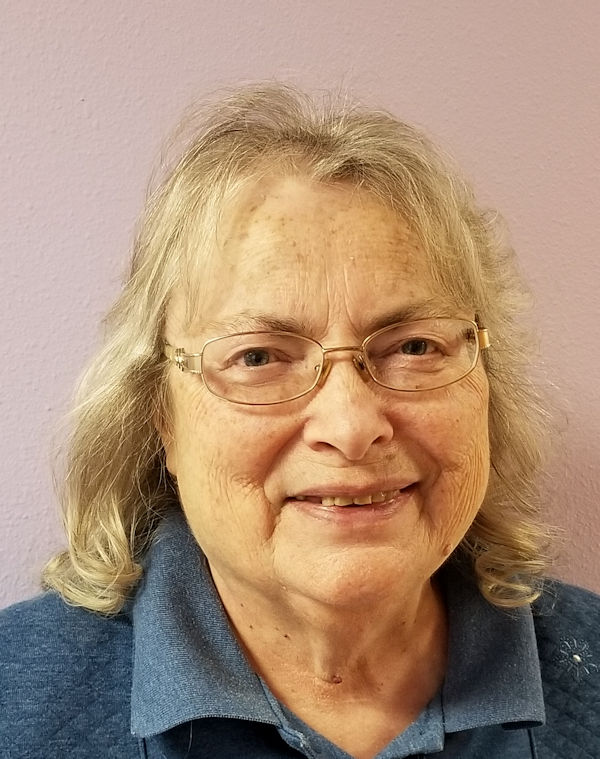 We are pleased to submit Pat Young as our Woman of Note selection for 2020. She has been a member of Spirit of Harmony Chorus since 1981, making 39 years of dedication with Sweet Adelines. She currently sings baritone but sang tenor with High Spirits quartet and baritone with Stateline Celebration quartet.
She is a member of our music team and assists with vocal warmups, where she shares her knowledge from her degree in Music Therapy. She has played the organ in her church for over 40 years and has been honored by her church congregation. She has served on the chorus Board of Directors as VP/Membership. She currently blows the pitch for the chorus, a very important support for our director. Although she is a quiet member, her dedication to the chorus is noted and it's a rare occurrence for her to miss a rehearsal.
---
Susan Krisnik - Twin Cities Show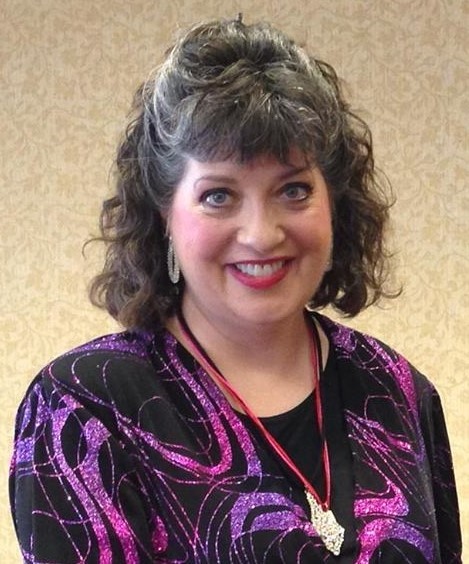 Susan Krisnik is a star performer at Twin Cities Show Chorus. Always willing to lend a hand, Susan is our go-to gal for choreography design and teaching. She does our weekly physical warm-up sessions teaching the chorus moves we use in the choreography plan for our songs. Susan is always fun and positive in all she does. Besides singing tenor, she also helps with fundraising projects like the annual spring flower sale and the wine bottle auction at our annual spaghetti dinner. She has been a past Board of Directors member and chorus president. She gets all this done in addition to being on the Regional Management Team and Faculty. Susan is a great contributor to Twin Cities Show Chorus and the Region 6. We are lucky to have her as a member of Twin Cities Show Chorus.
---
Glory Fladland - Twin Forks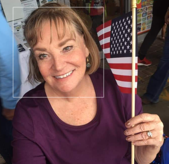 Glory Fladland is worthy to be the Woman of Note from the Twin Forks Chorus. Her smile and dedication to be singing bass in the chorus is evident at each practice and performance.
Glory has been a member for 10 years and served as an outstanding Membership chair on the Team. Always looking for ways to bring in new people.
She has a real desire to have our chorus grow and wants to give others the opportunity to feel the joy of singing and sharing with others her love of Barbershop- music.
---
Audrey Szymansky - Vallee de Croix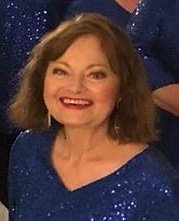 Vallee de Croix's 2020 Women of Note is Audrey Szymansky, she has been secretary for VdC many years, she steps working on the hot sheet for even longer. She always puts a bit of humor in her writings keeping us on our toes. She has been great partner with our new members, has helped out with keeping in touch with our community. She also enjoys being in an octet. She has quietly volunteered doing projects that very few people what to tackle, or will help out when she is needed, she will smile the whole time doing it.
---
Jill Wellik - Zumbro Valley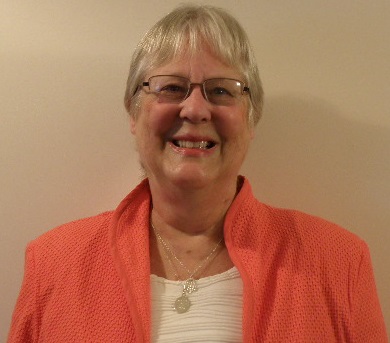 Jill is a member similar to the oil that makes the engine run smoothly. She coordinates our music, does our PR for performances, and keeps our web site up to date. Jill has been our treasurer for many years, and keeps us in tow with spending of our monies. She has been a part of applying for grants, and putting the money to good use. Jill is just one of those members who we appreciate more than we let her know. Jill is an awesome member!
---