2020
Shining Star - Connie Miller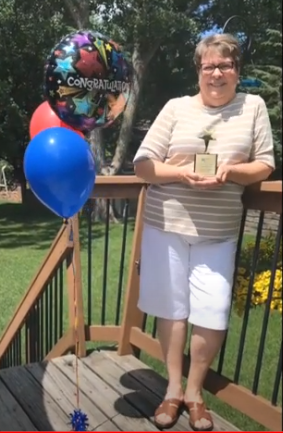 Connie Miller was nominated for the 2020 Northern Lights Shining Star Award by unanimous choice of the Twin Cities Show Chorus Board of Directors.

Connie is the TCSC assigned mentor from the Region 6 faculty program. Her visits to our Chorus are upbeat and energizing. She has a way of helping everyone around her sing to the best of their ability and leave rehearsal with a desire to go home and practice and improve. Her singing and teaching are well grounded in the excellent principles of the master teachings of the Sweet Adeline Barbershop tradition. Her positive attitude is infectious and her welcoming countenance gives everyone in the chorus the freedom to sing and learn in a safe and loving environment. Her suggestions for vocal production and interpretation make the music come alive in each member of the chorus. Her ability to listen, understand, suggest correction and praise success is a gift of joy to all she coaches.

Connie has served the Sweet Adelines for many years. Her quartet accomplishments are as legendary as the stories told at many afterglow gatherings. Connie has had many roles in Sweet Adelines including directing, chorus singing, quartet singing, International Quartet Champion, RMT Director Coordinator, faculty, coach and performing across the the United States and Ireland.

Connie Miller's resume highlights include:
Directed the Eau Claire, Wis Chapter for 7 years
Directed SAI Chorus in Black River Falls--Reg 22—Interim and contest director
Member of City of Lakes Chorus--36 years
Associate Director of City of Lakes Chorus with Mary Dick
Interim Director City of Lakes Chorus
Member of Collage quartet (Region 22)
Member of Espresso quartet (Region 6)
Tenor of 4-Star Collection - 1997 International Quartet Champions - Queens of Harmony
RMT Director Coordinator - two terms
Region 6 Faculty
Served on Faculty at Harmony College East (BHS) in Salisbury. MD
Served as Faculty at Land O' Lakes Leadership Academy (BHS)
Active Chorus and quartet coach
Founding Member of Friends-- a mixed harmony group that performed across the US and Ireland (21 years).

Connie's love of Barbershop and her sisters is inspiring to all who know her. Her very presence motivates singers to do their best and join in the excellence she demonstrates. Connie is a Sweet Adelines treasure and is truly a stunning example of "I am Sweet Adelines".

…… And, did you know, she carries a pitch pipe in her crown! Yes! Really!